Discussion Starter
·
#1
·
I am all new to this and it seems a lot of people just build their own stuff or customize brackets, mounts etc. to fit their bike. So, initially I figured I do the same and got these saddlebag support brackets, just because I liked the look without the bags mounted.
Then I got some cheap throw-over saddlebags from Amazon, but I didn't like the idea of having to tie them to the bracket permanently. And without the passenger seat installed, I felt it was too loose. Also, I really want to be able to take them off quickly. So, I went back to the Honda accessories website and wanted to get the OEM brackets and quick release saddlebags. Well, everything is on backorder and no dealer within 100 miles had them. Luckily I was able the get the brackets on eBay.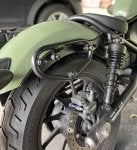 But still no bags... After some research I found out that the brackets are actually made by SW-Motech. They are called
SLC side carrier
(for double the price what Honda charges). They also make a some saddlebags that are compatible with this bracket and less expensive than Vikings. Eventually, I decided to get the SysBag 15 for both sides. I found that kind of confusing. They are actually Sissy Bar Bags, but they also offer an adapter plate to mount it to the SLC carrier. Also available as set:
SysBag 15 with adapter plate
I ended up ordering them from Moto Central for almost half the price. Here is the
Link
. Took them a couple days to process the order, but shipping from UK was basically overnight. Impressive FedEx!
I am glad I got the 15L for both sides, 10L would be really small. I would think that even with the stock exhaust that it might fit (haven't checked it though). The bags have tons of loops to hook up other stuff. I am actually thinking to get the SysBag30L as well. That can go on top of the passenger seat (if that becomes available this lifetime) and can be tied together with the side bags (someone really thought this through I guess
). Anyways, this is how they look...
Not touching the shocks or anything else.
The quick release works really great and I am kind of glad now that I did not get the saddlebags from Honda. I think with the added support to keep the shape of the bags, it looks better. But that's just me.